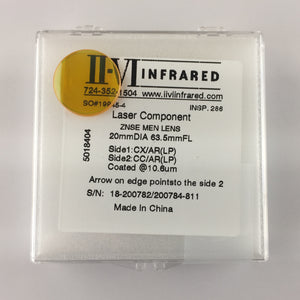 20mm diameter Zinc Selenide (ZnSe) meniscus lens
This lens is suitable for most CO2 laser cutters with a 20mm OD lens housing. 
II-VI Infrared is the world leader in laser optics, delivering an unbeatable combination of innovation, quality, and expertise.
Meniscus lenses are designed to minimize spherical aberration and produce the smallest possible focal spot.
Specification:
Material: II-VI ZnSe coating 10,600nm
Lens type: Meniscus
Edge thickness : 2.3mm
Diameter tolerance: +0/-0.1mm
Thickness tolerance: -0/0.1mm
Aperture: 90% of the Diameter
Face accuracy (radial deviation / irregularity) at 0.63um : less than 0.20%
AR Coating Reflectivity Per surface at 10.6 microns : less than 0.20%
For use with 30W-200W CO2 Laser Engraver/Cutter