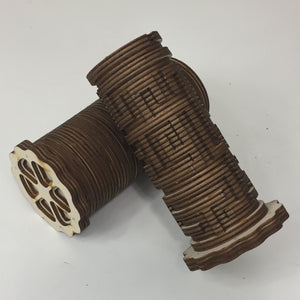 Plans a puzzle tube made from layers of Baltic Birch.The puzzle tube is made from 3mm (1/8") Baltic Birch. 
The alignment holes on the inner tube are positioned asymmetrically so that you cannot put the parts in the wrong rotation. You just need to keep that parts in the correct order, they are all individually numbered. The outer tube has 44 identical rings, just the final two rings with the tooth you have to guide through the maze are different. 
Dimensions:
156mm long x 80mm dia (6.1" long x 3.1" dia)

What's included:
dxf, ai, & svg files to make a puzzle tube from 3mm material.
Map of the maze to help you solve it.
For how to assemble this lampshade please watch this video:
https://youtu.be/2UjNXDSl19Y?t=119

You are free to:
Adapt, remix, transform, and build upon the material

You may not:
Copy and redistribute the material in any medium or format.
Use the material for commercial purposes.